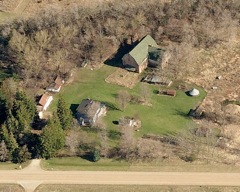 Check out my renovation projects: Home, Garage, Barn, etc...
My Titanium Gray 2004 RX-8 GT 6-Speed Manual w/ Navigation:
RX-8 Pics
Amy's 2001 F-250 Superduty 7.3L Turbo Diesel truck.
Amy talked me into buying a 1967 Kaiser-Jeep Jeepster Commando Roaster.
The vehicle is in the process of a complete ground up restoration. The following pictures cover a lot of the disssembly and reassembly of the vehicle and a few of the key components.

Various Jeepster Command Pictures
Reassembly Photos
Gemmer 24JC01 Rebuild (Manual Steering Box)
Dana 20 Rebuild (Transfer Case)
T-14A Rebuild (3-Speed Manual Transmission)
Historical Photos... I no longer have the 2001 Jeep. Was wrecked in an accident, I was rear ended by a Suburban and the jeep was declared a total loss...
My Forest Green 2001 Jeep Wrangler Sahara:
front
no doors
half doors
full doors
back
I purchased the Jeep w/ the dual top option. (Both the Hard Top and Soft Top.) But I still wanted the half doors, so I found a guy selling his half doors from a 1997 Jeep Wrangler, stripped 'em down, had them painted, put them back together. Bingo.. both sets of doors, both tops.. what else could I ask for?
Ahh.. the first real snow of the year (2001)..
D'oh! car crash!
Woohoo! New bumpers (front and rear) on the jeep.. the accident above made me do it.. (The new bumpers were custom made by Burnsville Offroad.)