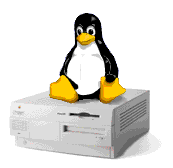 The CVS Repository is now defunct. And has been taken off-line.


LinuxPPC Developers' Reference Release CVS Repository
A special thank you to:
LinuxPPC, Inc. for their donation of an Apple PowerMac 8600/300! This system is being used to develop the various glibc 2.1 based distributions.
ADS Technologies for their donation of several PCI USB cards. These cards use the Opti chipset (same as the iMac and Blue&White G3). Various parts of the system were developed with USB in mind.
Apple Computer, Inc. for their loan of a Blue&White G3 for development purposes! Firewire here we come!
---
Comments/Suggestions? fray@kernel.crashing.org